GAY DVD - Le Voyage a Venise (Cadinot)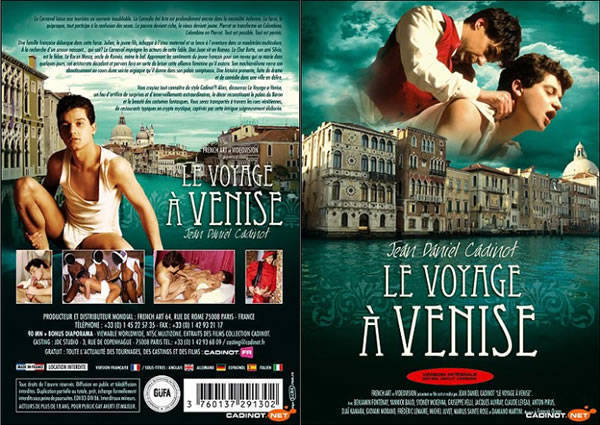 Country:
Italy
Studio:
Cadinot / French Art
Cast:
Benjamin Fontenay, Yannick Baud, Anton Piras, Marie-Helene Chapel, Robert Marsan, Gerard Nemour, Francois Chatelain, Frederic LeMaire, Carla Da Cino, Antonella Contini, Giuseppe Velli, Djai Kamara, Giovani Morano, Sydney McKenna, Damiano Martini
Director:
Jean-Daniel Cadinot
Screenwriter:
Jean-Daniel Cadinot
Composer/Score:
Myriam Zadeck
Costume Designer:
Maurizio Orlandi
Keywords:
Abuse/Humiliation, Age: Barely Legal/Twinks/Young Meat, Age: College Freshmen to Late 20s, Age: Intergenerational, Body Types: Average/Regular Build, Body Types: Lean/Slim/Wiry, Body/Chest Hair: None (Hairless/Shaved/Smooth), Butt Play: Foreign Objects/Getting Creative, Cast's Looks: Average Looking/Everyday, Cock Sizes: Average/Above Average, Cock Sizes: Big and Thick, Costumes ('Couture'), Cumshots: Facial/To the Face, Detailed Plot/Story/Theme, Facial Hair: None (Clean Shaven), Fetish: Blindfolds/Hoods/Masks/Sensory Deprivation, Fetish: Food/Vegetables, Foreskin Play/Uncut Cocks, Frottaging/Groping/Rubbing, Gang Bang, Gay Porn Classics, Group Sex/Orgy Scene, Interracial, Jerking Off/Masturbation/Solo (Some), Men in/of Italy, Men of Color in the Cast, No Condoms: Pre-Condom Era, Passionate/Tender Lovemaking, Rape/Forced into Sex, Rimming (Ass Eating), Rough Sex ('Take it, bitch!'), Spying On/Voyeurism, Straight/Closeted Men, Theme: Pussy Alert/Straight Sex
Genres:
Costumes/Uniforms, Detailed Plot, Story or Theme, Foreign/International Cast, Pre-Condom Era
Synopsis
Carnival in Venice is a truly amazing pre-condom classic. Shakespeare meets Zalman King as master pornographer Jean-Daniel Cadinot's erotic eye turns toward Italy to capture the initiation of an inexperienced youth into the sensuous and decadent world of Venetian nobility. The film's young protagonist is locked in his room by his overbearing and domineering parents. Upon finally escaping, he finds himself in a world he never imagined. This is rich and wonderful stuff, up there with among Cadinot's best. The sex is intense and powerful - always fun with costume dramas. Standouts include the "initiation" the young lad must suffer / enjoy at the hands of three masked ravagers. The massive orgy scene at the end is titanic, and even contains some guy-on-girl footage. As with several of his films, Cadinot pulls no punches here, and there are several scenes of prolonged male rape that are as equally hot as they are disturbing. Carnival in Venice is an all-out masterwork shot on location in Venice during carnival. Don't miss it.
"The tourists are left with an unforgettable memory of the carnival. The Comedia del Arte is deeply entrenched in the Italian mind. Jokes, misunderstandings... everything contributes to the general confusion. The poor become rich, the old become young. Pierrot turns into Columbine. Columbine turns into Pierrot. Everything is possible... everything permissible.
A French family arrives in the middle of the farce. Escaping his mother's clutches, Julien joins in with the colorful spectacle. What does he seek? Love? Who knows? The actors are immersed in the fairytale. Don Juan sees Puss-in-Boots in Romeo; his friend Silvio is the traitor. The Baron Mosca, Romeo's uncle, leads the ball. Seeing the young French guy's attraction to his nephew, the dirty old baron sees an opportunity to wreck the imminent marriage of his nephew, an alliance which he loathes. Success comes for this Machiavelli when he throws an orgiastic party in his sumptuous palace!
A fascinating story of drama and comedy in a wild town. (And you thought you knew everything about Cadinot's style!) Discover Le Voyage a Venise, a display of surprises and extraordinary marvels. The majesty of the Baron's palace, the magnificence of the costumes. You'll be swept through the venetian streets from local restaurants to eerie crypts, captivated by this elaborate intrigue."
Product Format Information
Format : AVI
File size : 1.35 GB
Duration : 1h 33mn
Overall bit rate : 2 066 Kbps
Width : 640 pixels
Height : 400 pixels
Audio Format : MPEG Audio
File size:
1.35 GB
DOWNLOAD:
كود:
http://oron.com/lklxre298p5k/Le_Voyage_A_Venise.part1.rar.html
http://oron.com/lhzmg55wbcwz/Le_Voyage_A_Venise.part2.rar.html
http://oron.com/8dcqeprahof6/Le_Voyage_A_Venise.part3.rar.html
http://oron.com/b89qenbx5p7s/Le_Voyage_A_Venise.part4.rar.html
http://oron.com/ldu66o86gsbg/Le_Voyage_A_Venise.part5.rar.html
http://oron.com/a5214911czoc/Le_Voyage_A_Venise.part6.rar.html
http://oron.com/7h8yuf26qs4y/Le_Voyage_A_Venise.part7.rar.html
http://oron.com/galwhgjic6iz/Le_Voyage_A_Venise.part8.rar.html